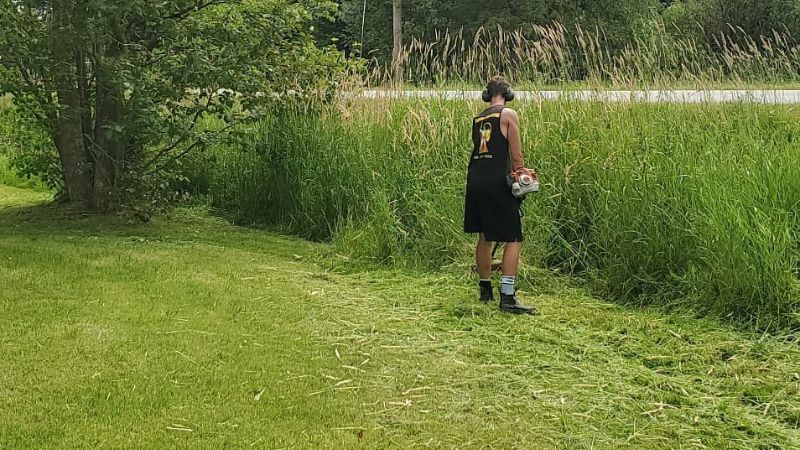 Have your farm fields or lawn areas become overgrown & embarrassing?
As a busy rural or farm owner we understand that your to-do list may be longer than a typical homeowners and when it comes to property and lawn care, bush & brush hogging may be the most labor intensive and off putting.
At Warrior Landscaping we use specific tractor machinery to work on untamed fields, pastors and lawn areas that have been neglected.
Whether you have 5 feet of overgrown weeds & brush, or 3 feet of untamed lawn areas, we can bring it back to a manicured state within hours.
Our Bush & Brush Hogging Process:
1. We do a visual inspection on foot to note any obstacles, dips, debris or water hazards.
2. We discuss these challenges with the homeowner
3. We utilize a specific brush cutting attachment on our tractor to knock down all of the overgrown brush or weed areas.
4. We follow up with multiple more passes until the turf areas begin to look presentable
5. We finish up with a finish-cut mower attachment to really make the area look like a lawn or manicured field again.
When you choose Warrior Landscaping to clear your field or the brush on your property you are partnering with a small, locally owned, family run business.  We have the equipment to make short work of your overgrown grassy and field areas and we can get them back into a manageable state for you.
While we may not be the cheapest or most cost effective brush clearing around, we will certainly pride ourselves on being the most professional and results driven.
If you'd like an estimate for our lawn mowing services please email us at warriorlandscapingservices@gmail.com or fill out our online contact form and we'll get back to you right away.