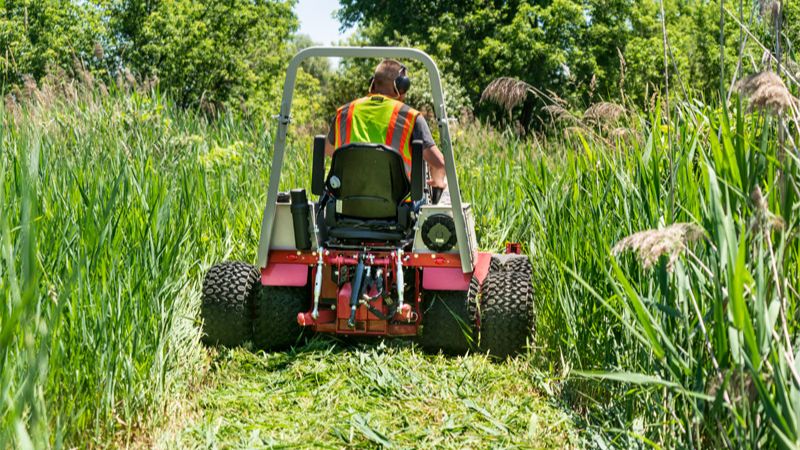 Embarrassed by out of control Grass, Weeds or Brush?
We can tame the wildest areas in no time, reclaim your property.

Brush hogging can help you reclaim all of that lost, but still usable land. As a large property or land owner we understand that your to-do list may be longer than the typical homeowner. When it comes to property and lawn care, Bush & Brush Hogging may be the most labor intensive and off putting job of them all. When left alone, it doesn't take very long for the brush and undergrowth to take over and before you know it, you've lost a large area of what was once usable land. Not to mention the attraction of critters and wildlife.
Warrior Landscaping is a full service Property Maintenance Company based out of Amaranth, Ontario and serving the surrounding area. At Warrior Landscaping we specialize in Brush Hogging services for Farms, Residential Estate Homes & Commercial Developments. We use specific machinery designed to safely work on untamed fields, overgrown brush and tall lawn areas that have been neglected and are now overgrown.
Whether you have 5 feet of overgrown weeds & brush on an acre or more of property or 3 foot high untamed grass on what was once a beautiful lawn, we can bring it back to a manicured and manageable state within a few hours.  You'll get your usable land back without the sweat, toil, and hassle.
Our Bush & Brush Hogging Process:
1. We do a visual inspection on foot to note any obstacles, dips, depressions, debris, or water hazards that may be present on the property. Brush hogging with machinery like ours is serious business and these hazards could damage our equipment or present a safety issue and we want to ensure this doesn't happen.
2. We discuss these challenges with the homeowner and discuss our plan and how we're going to complete the project safely, and without damaging property or equipment.
3. We utilize a specific brush cutting attachment on our tractor to knock down all of the overgrown brush or weed areas. It literally eats the brush and spits it out.
4. We follow up with multiple passes until the turf areas begin to look presentable again and we've knocked down and mulched up all of the brush.
5. We finish up with our finish-cut mower attachment to give the area a final professional cut and make the area look like an actual lawn or maintained field once again.
When you choose Warrior Landscaping to clear your field or for brush hogging on your acreage, you are partnering with a small, locally owned, family run business. We have the equipment to make short work of your overgrown grassy and field areas and we can get them back into a manageable state for you quickly.
While we may not be the cheapest brush clearing service around, we certainly pride ourselves on being the most professional, results and value driven brush hogging company in the area. You'll be happy with our service and more importantly you'll be even happier with the results and the usable land we're going to help you reclaim.
If you'd like an estimate for our Bush & Brush Hogging services please email us at warriorlandscapingservices@gmail.com or fill out our online contact form and we'll get back to you right away.