Core Aeration & Fertilizing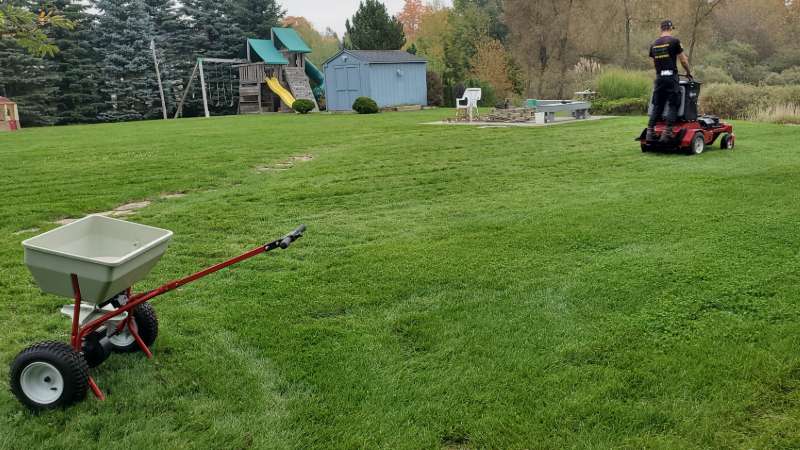 Core Aeration & Fertilizing Is Critical For Healthy Grass.
We can professionally Aerate & Fertilize lawns of all shapes and sizes.
There are many different steps and processes required to achieve that beautiful lawn you've always wanted for your property. One of the most important steps, critical to your lawn's success is Lawn Aeration or also known as Core Aeration. Aeration of the turf areas followed by a fertilizer application is necessary for good lawn health. The results will show immediately.
Annual Lawn Aeration is beneficial because the soil underneath your lawn will compact & condense over time. This can happen for a variety of reasons; Vehicles, People, Kids, Equipment, Summer Droughts, basically any stress over the lawn areas will compound the soil, over time this will yield less than optimal soil conditions. This in turn, affects the root system growth as well as nutrient delivery mechanisms resulting in a lackluster lawn.
Lawn Aeration counter acts this soil compaction process by puncturing holes in the earth and removing soil plugs, reversing the compaction process. Fertilizing then replenishes the nutrients necessary for strong root development resulting in a thicker, healthier turf over a period of time. Golf courses as an example, will aerate up to 6 times per season. We recommend two applications, Spring & Fall coupled with 2 Fertilizers.
Warrior Landscaping is a full service lawn care and maintenance company based out of Amaranth, Ontario. We specialize in Lawn Aeration & Fertilizing as a stand alone service for larger properties or as part of a regular Annual Lawn Maintenance program. We work with both Residential and Commercial Farm & Rural properties from 0.5 - 10 acres in size.
Is Lawn Aeration and Fertilizing Really Necessary?
The short answer is yes, if you are serious about the health and appearance of your lawn areas. The long answer is that it really depends on several factors.
Does your lawn get heavy use from equipment, foot traffic, or vehicles?
Do you let your grass clippings fall back onto your lawn?
Do you let the leaves decompose on your lawn?
Does your lawn seem to dry out easily and not uptake water as it should?
Has your lawn ever been Aerated & Fertilized? Once, Twice? Never? (Twice per year is our recommendation)
These are all signs your lawn could benefit from Lawn Aeration and a good application of Fertilizer. The best time for this one-two punch combo for your lawn is during the Spring and Fall growing season when the roots can recover quickly and the grass can work to fill in all of the plugs of grass/soil that were removed during the service. Think April - May, & September - October.
Why Choose Warrior Landscaping For Your Lawn Aeration & Fertilizing Needs?
When you choose Warrior Landscaping you are partnering with a small, locally owned, family run business. We're large enough to take care of all your Lawn Aeration & Fertilizing needs but we're still personable enough to give your lawn the specific care and attention it needs to make a big impact on your properties curb appeal.
We may not be the cheapest or most cost effective Aeration & Fertilizing around, we will certainly pride ourselves on being the most professional and results driven.
If you'd like an estimate for Aeration & Fertilizing services please email us at warriorlandscapingservices@gmail.com or fill out our online contact form and we'll get back to you right away.