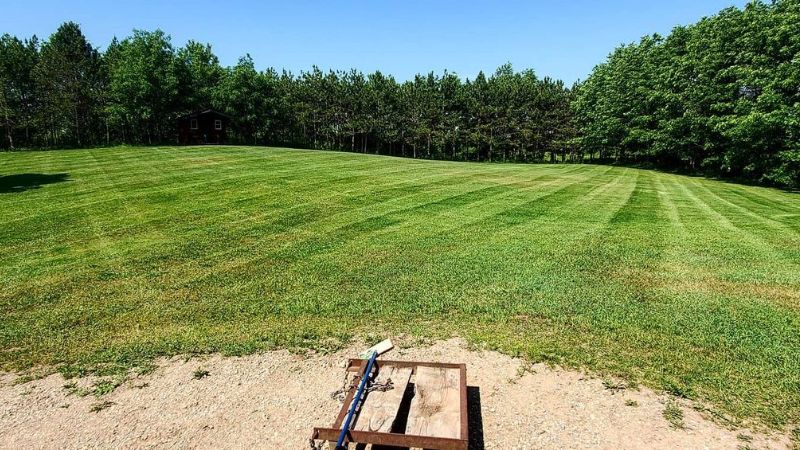 Regularly Scheduled Lawn Mowing & Trimming, take your weekends back.
When rural clients ask what the most critical step they can take in ensuring a healthy and sharp looking lawn the answer is often surprising to them.
Weekly Mowing Maintenance
A simple approach in theory, until you realize that mowing 5 acres of lawn every Saturday on your own probably wasn't the best idea!
Leave it to the professionals at Warrior Landscaping.
We have extensive experience with mowing & trimming rural & farm properties. Rest assured your fields, pastors and lawn areas around your barn, home, or shop will look sharp, clean and patterned for maximum contrast and beauty.
Warrior Landscaping recommends weekly mowing maintenance during the entire growing season. If things begin to slow down and burn out over the summer, we maneuver over to bi-weekly services. Weekly inspections are provided to ensure everything is presentable.
Lawn Mowing Services
Rural & Farm Lawn Mowing
Weekly visits
Bi-Weekly visits during droughts
Weekly inspections to ensure quality
Our Lawn Mowing and Lawn Care Services Include:
Mowing & Striping the lawn in opposite directions weekly
Line trimming around gardens, walkways, trees, borders
Blowing out garden beds of any clippings.
Blowing any clippings off sidewalks or driveways.
Mulching grass blades back onto the lawn for fertilizing properties.
Edging of your lawn for a nice sharp appearance. (optional)
Final visual inspection of your property.
How Our Lawn Mowing and Maintenance Process Works
We've mowed dozens of rural farms and properties throughout Amaranth to Mono over the last 8 years and we've streamlined our processes to cause minimal hassle or inconvenience for the property owner when you hire us.  We can custom tailor your lawn mowing and maintenance package to ensure your property gets the specific attention it needs on a regular and consistent basis.
We start with our initial consultation.
We will listen to your requirements, making any necessary suggestions.
We show up on the scheduled day(s) and mow and maintain your lawn as promised.
The end result will be a well maintained lawn with a fantastic appearance.
Why Choose Warrior Landscaping For Your Seasonal Lawn Mowing Needs?
When you choose Warrior Landscaping you are partnering with a small, locally owned, family run business. We're large enough to take care of all your lawn mowing needs but we're still personable enough to give your lawn mowing the specific care and attention it needs to make a big impact on your properties curb appeal.
While we may not be the cheapest or most cost effective lawn mowing around, we will certainly pride ourselves on being the most professional and results driven.
If you'd like an estimate for our lawn mowing services please email us at warriorlandscapingservices@gmail.com or fill out our online contact form and we'll get back to you right away.