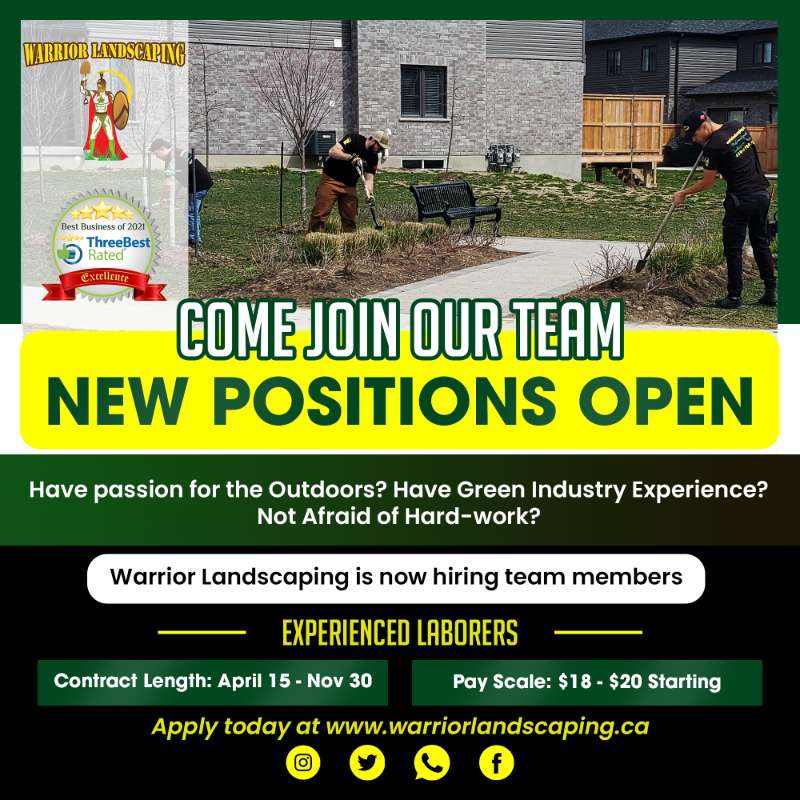 New positions available!
* Apprenticeships under Landscape Ontario, Landscape Horticulture Technician
Turn your passion into a career, earn while you learn.
To qualify for an apprenticeship, you must:
Have legal permission to work in Canada (for example, have a valid social insurance number)
Minimum of Grade 12 or equivalent (international designations must provide Canadian equivalency)
Employed in the Horticultural Sector in Ontario.
More information:
https://horticulturetechnician.ca/
* Crew leader / Landscaping Laborer 2 - 4 + years experience required
* Previous industry experience? New beginnings are available at Warrior
To apply for this position you must have:
Multiple years landscaping experience
Zero-Turn experience
Walk-Behind experience
Commercial & Residential experience
All applicants must have:
G license or G2 license
Your own vehicle for transport
Steel toe safety boots
Availability from April until November
Two referrals provided on request
A complete resume
Physical labor experience
Physically fit
Clean record
Please fill out the form below and attach your resume