New Lawn Installations Amaranth and Caledon, ON
New Lawns For New Construction, Property Development and Restorations
We specialize in the installation of new lawns using turf or seeding grass naturally.
Are you building a new home? Maybe you've purchased a home or property and the lawn is in poor shape? Whatever your reasons, you're probably in the process of planning out your lawn and landscaping. There is a lot to know about getting grass to properly take root and grow into a healthy, vibrant, lush green lawn.
Warrior Landscaping is a full service lawn care and landscaping contractor based out of Amaranth, Ontario. We specialize in installing new lawns using sod or seed for new construction projects or replacing an existing lawn.  If you need a new lawn installed on your property we can take care of everything from site prep to spreading soil and then laying sod or planting seed.
Lawns We've Recently Installed
New Lawn Installations Amaranth to Mono
Lawns for new construction projects
Lawns for residential property developments
Planting and overseeding lawns
Installing new turf/sod lawns
Lawn replacement and restoration
Lawns for commercial or public properties
How Our New Lawn Installation Process Works
We've installed dozens and dozens of new lawns for new homes and property developments from Amaranth to Mono.  We are happy to get your new lawn installed by using ready-to-go turf or planting your new grass from seed.
We start with our initial consultation and accurate measurements of your property.
We assess the existing soil and take note of any grading/drainage issues.
We will bring in top soil and spread as needed to ensure uniformity.
We can have irrigation and underground sprinklers installed at the same time.
We then lay your turf or plant your grass as promised.
The end result is a beautiful, lush green lawn!
For most average sized lawns this entire process can be completed in just 1-3 days. For much larger residential lawns or commercial properties the process can take longer but the end result is exactly the same. You're going to end up with a beautiful, lush green lawn that will be ready to enjoy in just a few short weeks.
Why Choose Warrior Landscaping To Install Your New Lawn?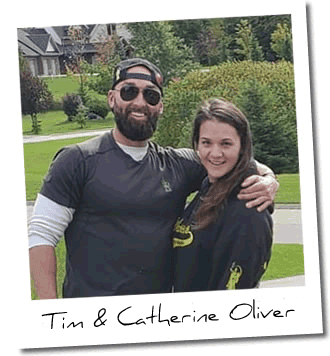 When you choose Warrior Landscaping you are partnering with a small, locally owned, family run business. We're large enough to install lawns of all sizes but we're still small enough to give your lawn the specific care and attention it needs to make a big impact on your curb appeal.
As Warriors we believe in providing great service and value and complete customer satisfaction through a job well done!   Our employees are experienced and they are expertly trained.  We will conduct ourselves like true professionals on your property at all times, leaving no trace but a beautiful looking new lawn!
If you'd like an estimate for our lawn installation or replacement services please fill out our contact form and we'll get right back to you.