Lawn Feeding and Fertilizing in Amaranth and Caledon, ON
A Healthy Lawn Needs More Than Sunlight and Water To Thrive!
We specialize in lawn fertilizing and regular feeding for lush, healthy growth.
The nicest looking, most beautiful lawns in your neighborhood usually share a few things in common.  First, they are typically maintained by a professional lawn & landscape company.  And secondly they are probably implementing some type of regular feeding and fertilization program to keep the lawn full of essential nutrients so it remains in a very healthy, lush, green state.
Warrior Landscaping is a family owned and operated local lawn care company based out of Amaranth, ON.  We specialize in lawn fertilization services as part of our regular lawn mowing programs or as a standalone service for both residential and commercial clients.
We can provide lawn fertilization for properties like Home owner associations, townhomes and other residential developments that have large lawn areas.  Backed with over 15 years of lawn care experience and our knowledge of local grasses and the nutrients they require you can't go wrong choosing the Warriors!
Lawn Fertilizing Services Amaranth to Mono
Scheduled Lawn Fertilization
Commercial Lawn Fertilization
Public Facility Lawn Fertilization
Lawn Aeration Service
Lawn Restorations and Patch Repair
What Does Your Lawn Actually Need For Fertilizer?
Like all plants, your lawn thrives on the elements NPK.  NPK stands for Nitrogen (which is good for lush green vegetative growth), Phosphorus, and Potassium.  Your grass requires these elements and many other trace elements in varying amounts throughout the year.  For example, in the spring when rapid growth is happening very quickly your grass will need lots of Nitrogen, moreso than other elements.  Knowing about these important balances of nutrient requirements make a big difference in how effective your lawn feeding strategy will be.
But that's not all... The nutrient uptake of your lawn also depends on the PH of your soil!  This just keeps getting more complicated, doesn't it?  Thankfully the Warrior Landscaping team can take away the guess work and have your lawn looking beautiful once again.
If you want a healthy looking lawn then it needs to be fed regularly usually in 4-6 week intervals for the best results.  There are literally thousands of lawn fertilizing products on the market but there are only a select few that work exceptionally well for the grasses we have in Ontario.
Why Choose Warrior Landscaping To Fertilize Your Lawn?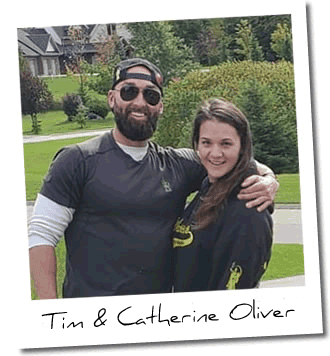 When you choose Warrior Landscaping you are partnering with a small, locally owned, family run business. We're large enough to care for lawns and grassy areas of all sizes but we're still small enough to give your lawn the specific care and attention it needs to make a big impact on your curb appeal.
As Warriors we believe in providing great service and value and complete customer satisfaction through a job well done!   Our employees are experienced and they are expertly trained.  We will conduct ourselves like true professionals on your property at all times, leaving no trace but a beautiful looking lawn!
If you'd like an estimate for our lawn fertilization services please fill out our contact form and we'll get right back to you.