Popular Softscape Landscaping Ideas For Ontario Homeowners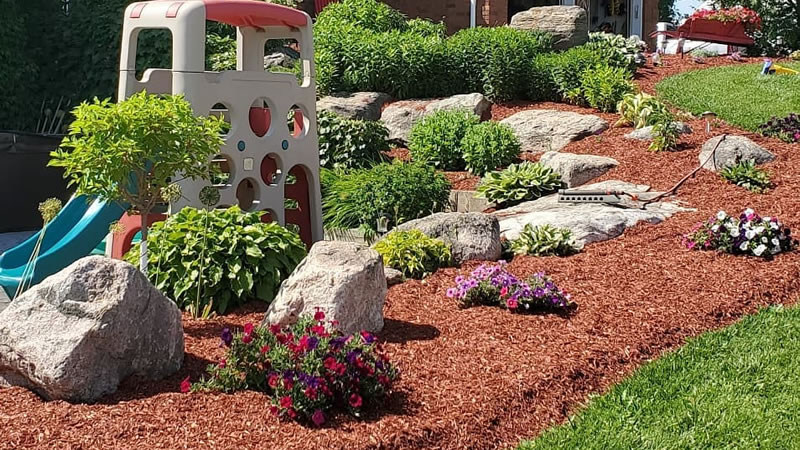 Popular Softscape Landscaping Ideas
Landscape design has two basic components known as softscape and hardscape. When used together, these fundamental parts create a front yard or backyard that is functional, comfortable and aesthetically appealing for your family members and guests to enjoy. Therefore, it's particularly important to understand the difference between softscape and hardscape in order to blend them thoughtfully and lay a foundation for a harmonious landscape.
What's the difference between hardscape and softscape?
Hardscape elements are the "non-plant" parts of your garden such as statues, retaining walls, decks, patios, driveways, walkways, and fountains. On the other hand, softscape materials are the "plant" elements such as the lawn, trees, shrubs, succulents, and flowering plants. Basically, hardscape refers to the inanimate structures while softscape is a combination of living and organic things.
You also have the option of adding either softscape or hardscape retaining walls. People who want total privacy can go with hardscape walls (like a retaining wall) using materials such as wood, natural stones, concrete blocks, or bricks. Otherwise, trees, shrubs, and hedges, make for more natural walls that give your property a more open look while still providing ample privacy by blocking the view from other people and they continue to grow and improve privacy (and property value) over time.
Choosing trees and shrubs
After installing hardscape elements and choosing your desired layout, it's critical to make a wise choice for the shrubs and trees you wish to plant in your yard.  Always go with trees and shrubs that are a mix of both winter and summer in order to accentuate your yard during both seasons. It's also essential to ensure that the trees and scrubs you choose are compatible with our climate (zone 6b).  Native plants to Ontario are a great option because they have already adapted to the local environmental conditions.
Types of plants and planting ideas
1. Flowering Perennials
Perennial flowering plants help cover the hardscape and add aesthetic appeal to your yard. Go for plants that don't require a lot of care and attention to thrive in our region of Ontario.  The best perennials for zone 6b gardens include Creeping Phlox, Bergenia, Heuchera, Barrenwort, Lilyturf, Lenten Rose, Dianthus, and Calamintha.
2.  Native Plants and Wildlife-Supporting Plants
Besides requiring little care once they are established, plant species that are native to our region also offer nesting material and food sources to native insects and animals. Although going with all native plants is always a good idea, including a few plants that aren't native to your region such as wild lilac (ceanothus spp.) can add a natural look to your yard. You can also fill in with various wildlife-supporting plants like penstemons and nectar-rich salvias.  The options are really endless and we can help you make decisions based on what you're looking to accomplish.
3.  Native and Ornamental Grasses
With their carefree habit and soft forms, native and ornamental grasses can fit in well with natural gardens. You can plant grasses into garden beds to add texture, or simply use them to cover large areas instead of having a traditional lawn.
4. Meadow Gardens
Rather than planting in formal rows, you can plant a single variety of grasses or perennial plants in groups of odd numbers (three or five), or create several large swaths of one plant variety to create a meadow garden that is both beautiful and natural-looking.
5. Vines
Hanging and climbing vines are an easy way to merge hardscaping with softscaping elements. Hanging vines work particularly well with hardscaping structures such as pergolas and gazebos. They create a curtain of greenery that helps counterbalance wood and metal. Climbing vines are also very useful and can be used to give home facades and retaining walls a more natural look. They can also be used to fill in the gaps in traditional fences. Homeowners can also add flowering vines to create a diverse and balanced landscape with lots of color.
You can give your front or back yard a wilder look by planting vines that ramble over retaining walls, pergolas or fences. This is an easy way of hiding human-made elements while giving your yard an untamed feel in a single season (as they can grow quickly). Vines such as five-leaf akebia (akebia quinata), pipevine (aristolochia macrophylia) or grapevines (vitis spp.) can give such structures fast cover.
Planting Trees, Shrubs and Vines
The right placement of trees and shrubs is very important.  Avoid planting trees right in front of your house, and never plant shrubs too close to the driveway or walkway. It's always a good idea to plant shrubs on either side of the driveway and place them in odd numbered groups of three or five. While planting trees, take into account the size and space that the full-grown tree requires in order to leave ample space around it.  You can plant trees at the edges of your house to help soften pointed edges and other hard lines from your homes architecture.
1. Add Flowering Plants
While adding flowers to your front and back yard, choose a small number of plants (two or three) of contrasting colors. Avoid adding too many accents as this can spoil the look by creating a riot of color. Even with a few flowering plants, your house and landscape can still look good and inviting. For ground cover, you can either plant grass or simply spread shrubs evenly (go for shrubs that have a maximum height of about one foot). If you want a boundary or screen around your house, choose the hedge wisely and plant it around 15 to 20 ft. away from the street.
2. Accentuate Your Driveway With Natural Borders
Regardless of whether they offer sweeping curves or are completely straight, driveways and walkways are all about connecting different elements of the landscape design. Walkways connect different focal points, spaces and features of your yard in order to maximize accessibility and make the space more organized.
Lining your walkways and driveways with plants gives your yard a more balanced and beautiful look. The natural textures and colors help offset the hardness of elements such as stone or concrete. It also opens up a wide range of aesthetic combinations to give your driveway a more exciting appearance.  Planters are a good alternative for achieving this objective and they also give you the option of easily moving them when necessary but planters can also be permanent in the case of a raised bed built using block or stone.
Natural stone walkways provide an organic and perfectly serene look that never fails to impress.  Pavers, meanwhile, are the preferred material for homeowners who want a flexible, versatile option that offers creative freedom and a wide variety of design possibilities. On the other hand, brick walkways usually take us back in time with their weathered and historical appearance.
You can further enhance walkways with beautiful flower beds filled with perennials, trees and shrubs. If there are already trees in the yard, the walkways can curve around them nicely to protect the trees and create paths with an organic flow.
Some hardscape structures in open areas such as pillars and natural stone retaining walls already serve as borders.  You can use these design elements to your advantage by creating gardens along such elements, essentially making borders of flowers. This is a good way of adding some color to your yard without using up too much surface area. Homeowners can also plant beds of flowers just behind their natural stone barbecue islands or outdoor stone fireplaces to help them blend in.
Shrubs also work exceptionally well especially if your walkway or driveway cuts through the lawn.  They add a vertical element to offset the flatness of the hardscape. You can also integrate trees into your yard in this manner. However, it's essential to keep in mind that trees work especially well in large landscape designs.
Deciduous shrubs that are ideal for zone 6b include;
Shrubs under 3 feet
Bearberry
Azalea
Junipers
Bush honeysuckle
Japanese Spirea
3 to 5 feet tall shrubs
Winterberry
Serviceberry
Flowering quince
Cinquefoil
Japanese barberry
Shrubs that are 5 to 9 feet tall
Northern Bayberry
Ninebark
Rose of Sharon
Butterfly Bush
Summer sweet
Mock orange
Purple Leaved Sandcherry
Tree-like shrubs
Arborvitae
Juniper
Yew
Holly
Boxwood
3. Decorate Walls With Colorful Vines
Walls are usually meant to ensure privacy in the landscape. For areas that are not ideal for growing lush greenery such as walls made of wood, natural stone or concrete blocks, colorful vines are an ideal way of dressing up the space. They can be used to support vines that will gradually spread out over vertical structures.
4. Garden Ponds
Ponds are an ideal way of combining softscaping and hardscaping into one feature. Garden ponds can be bordered with low walls or rocks to give them style and structure. You can also integrate garden fountains and waterfalls into the design. They also open up new dimensions for softscaping, providing an opportunity for the addition of water-based flora and fauna. Ferns and water lilies are popular aquatic plants that can be easily complemented with goldfish and koi. However, it's important to ensure the proper design and construction of ponds based on the climate.  If you plan to have fish in a pond you're entering into a whole new world of maintenance so it's best to do your research before jumping in.
5. Gardens and Terraces
Besides ensuring a safe landscape design especially for an undulating landscape, terraces are also prime spots for vegetable and flower gardens. Terraces give gardens a prominent spot in your landscape design while also counterbalancing the wide expanse of concrete or stone walls. Walls can also be easily covered with climbing vines to make them blend into the yard more naturally.
You can add more innovative elements to your yard by getting creative with both hardscape and softscape design to come up with unique landscaping ideas. When it comes to adding softscape design elements to your front or back yard, you should not limit yourself to the ground. For instance, you can accessorize your outdoor kitchen by adding potted plants to your barbecue island or use hanging gardens to integrate plants into the hardscape design.  The possibilities are endless.
Do You Need Help With Your Landscape Design?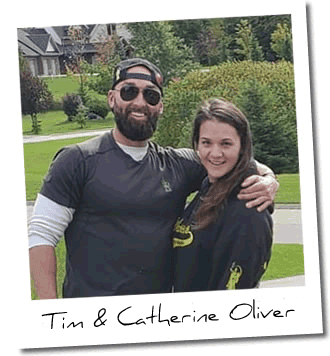 Warrior Landscaping specializes in the design and installation of softscapes.  Whether you want a beautiful front garden along your driveway, garden beds to surround your mature trees, or you just want help choosing all of the right plants and shrubs, we can help you design and build an amazing landscape on your property.
If you'd like to schedule a consultation with us to discuss your softscaping design or installation ideas we'd be happy to meet with you.  Please fill out our online form and we'll get right back to you.