Seasonal Property Maintenance in Amaranth, Mono, and Caledon, ON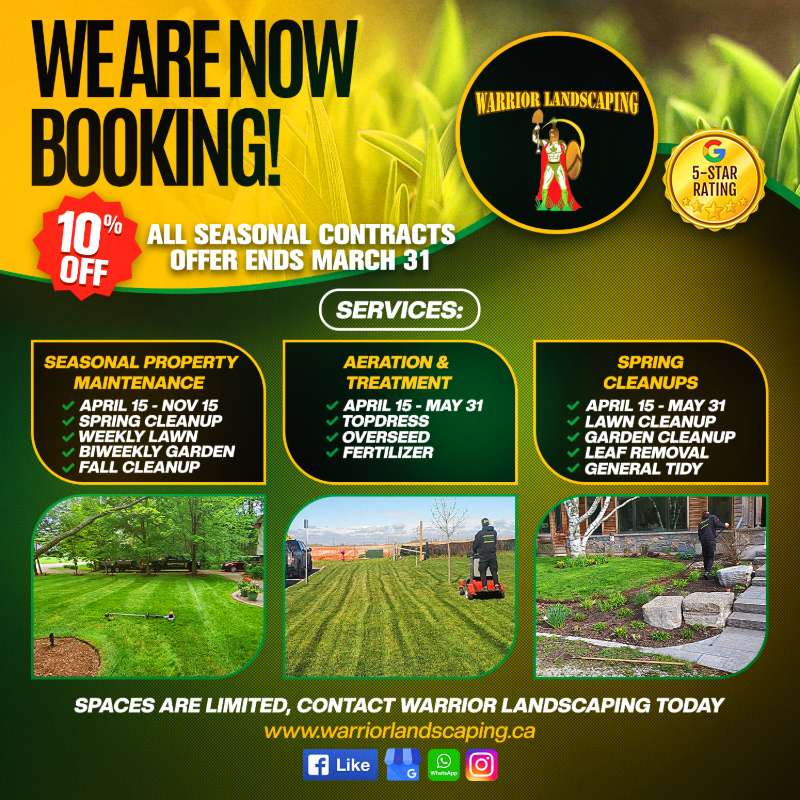 Regular Scheduled Lawn & Garden Maintenance
April 15th - Nov 15th
The Warriors are experts in seasonal landscaping upkeep
At Warrior Landscaping we understand that first impressions are everything. A sharp & manicured landscape is a bold statement about the relationship you have with your home or business. Your landscape will always be the first thing noticed, make it stand out!
When family, friends, customers or clients visit your home or business give them the presentation of professionally serviced lawns, tidy & clean gardens, trimmed shrubs and spotless walkways. Your landscaping says much more about you then you think!
Warrior Landscaping is a full service landscape maintenance contractor. We service area's from Amaranth across to Caledon. The Warriors specialize in maintaining landscaping, lawns and gardens on large residential properties, farms, parks. cemeteries and commercial developments, plazas and townhouse associations.
Our seasonal services begin in April and continue to November. We offer different packages and approaches based on your properties needs. We service Residential & Commercial properties.
Our most popular seasonal package is a 3 step approach:
Lawn Aeration, Lawn Over-Seed, Lawn Fertilizing
Garden Clean up, Yard-Waste Removal, Garden Edging, Perennial Pruning, Soil Cultivation
Lawn Mowing, Edge Trimming, Backpack Blowing
Weekly or Bi-Weekly Garden Maintenance; weeding, pruning, cultivation.
Lawn Fertilizer
Lawn Aeration, Lawn Fertilizing, Lawn Over-Seed
Garden Winterizing; Perennial Pruning, Final Weeding, Final Yard-Waste Removal
Leaf Cleanup
Additional Service We Offer Seasonally:
Lawn Maintenance Only
Garden Maintenance Only
How Our Landscape And Property Maintenance Process Works
Every property we maintain is different and the requirements for care are different too.  We'll work with you to develop a custom maintenance plan that will best meet the needs of your property and your budget.
We start with our initial consultation.
We will listen to your requirements, making any necessary suggestions.
We will determine the scope of work, equipment required and labour.
We will provide you with a detailed and written estimate for the work.
We will show up on the scheduled day(s) and complete our services as promised.
The end result will be a beautifully landscaped property.
Why Warrior Landscaping For Your Lawn and Garden Maintenance?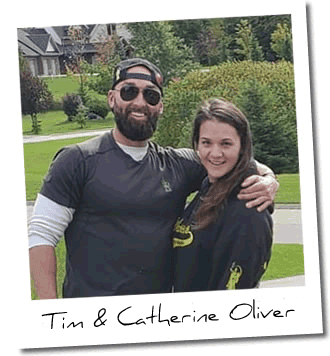 When you choose Warrior Landscaping to care for the lawns and gardens on your property you are partnering with a small, locally owned, family run business. We're large enough to take care of all your landscaping needs but we're still small enough to give your property the specific care and attention it needs to make a big impact on your curb appeal.
As Warriors we believe in providing great service and value and complete customer satisfaction through a job well done!   Our employees are experienced and they are expertly trained.  We will conduct ourselves like true professionals on your property at all times, leaving no trace but you're beautifully maintained landscape.
If you'd like an estimate for landscape or property maintenance services please fill out our contact form and we'll get right back to you.